Afraid of cutting your pet's nails?
If your dog is terrified of having their nails trimmed or you have cut down too deep, causing bleeding and discomfort for days, our Rechargeable Pet Nail Grinder has been specifically designed for difficult pets and is the safest and easiest way to keep their paws healthy.
Get short, smooth and rounded nails in under 5 minutes!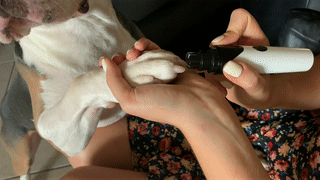 Features :
✅ ULTRA-QUIET AND LOW VIBRATION – Our Nail Trimmer is equipped with an ultra-quiet but powerful motor. It gently removes thin layers of the nail with minimal noise (under 50dB) and vibration so that sensitive pets won't be anxious or scared.
✅ STAYS COOL –  Special coated pet-friendly grinder rotates at just the right gentle speed, preventing friction burn.
✅ USB CHARGING – No need to fumble around for batteries as it's USB rechargeable with up to 3 hours of continuous use.
✅ NO MORE OVER-CUTTING – Our nail trimmer slowly trims away the layers of your dog's nails. No more worries about over-cutting, nasty pains or bleeding.
✅ EASY TO CLEAN – To clean your trimmer, just use a soft wet towel and gently brush away any nail dust.
✅ SUITABLE FOR ALL PETS – Small, medium-sized and large dogs, cats, birds & other pets – Labrador retriever, German shepherd, Golden retriever, French bulldog, Beagle, Poodle, Rottweiler, Yorkshire terrier…Parrots, Rabbits, Guinea Pigs, Hamsters. You name it!
The trimmer comes with three custom-sized openings that are made to fit your pet's nail size and shape.
How To Use : 

Step 1: Accustom your pet to the sound of the grinder: Turn on the grinder and accustom your dog to the sound and smell, to avoid scaring dogs for the first time use.
Step2: Choose the appropriately port: Make sure your pet is ready then choose the appropriately sized port. Carefully place the grinder onto the nail. Please use low-speed to start when using the grinder.

Step3: Reward your pet every single time: Always include a favorite treat during the session and at the end to let the dog associates the product with a pleasant reward.

Product Specifications : 
Charging time: 2 hours

 

Running time: 3 hours

 

Material:  ABS plastic
Charging Mode: USB charging

Battery: Built-in battery
Package Contains : 
1x Pet Nail Grinder 

1x USB Charge Cable

1x Package Box 

1x user manual
Expected Delivery Time : 
USA: 7-15 Days 

Canada: 8-20 Days

Australia: 7-15  Days

Worldwide: 10-20 Days
}