RUN, HIKE AND WALK YOUR DOG HANDS-FREE WITH OUR NEW HANDS-FREE BUNGEE LEASH.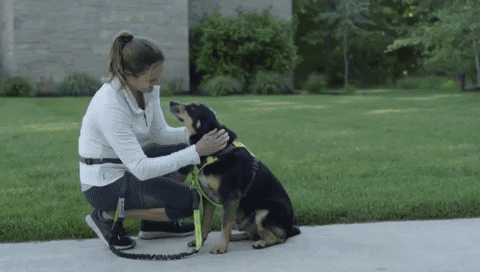 Features:
🐕 TAKE YOUR WALKS FROM PAIN TO PLEASURE! This Dog Running Leash Hands-Free helps you prevent shoulder or wrist injuries and protects your back and your pet's neck from strain. SAVE YOUR BEST FRIEND FROM LIFELONG DANGERS OF IMPROPER LEASHING. Add to your cart the Waist Leash for Dogs that will CHANGE YOUR LIFE!🐾
🐶 IMPROVE DOG HABITS NOW! The three shock-absorbing bungee cords will develop your dog lead manners day by day. The two Neoprene padded handles of the Dog Running Leash will help you control the dog in unexpected situations and your hands will never be sore again! The best hands-free leash for large dogs!🐾
❤️ DESIGNED BY HUMANS, WITH LOVE FOR PETS: This running leash for large dogs was built with the help of Oscar, an untrained 7yo Golden Retriever rescued from a shelter. We created this running leash for dogs focusing on the needs of the dog and on the comfort of the owner. 🐾 A bungee leash for running with your dog that will make you easily forget your old way of jogging.🐾
👨‍👧 FOR YOUR ENTIRE FAMILY: With its adjustable waist belt the dog walking belt can be used by active mothers athletes/runners veterans or seniors. SUITED FOR: Dog Training, Jogging, Hiking Cycling. Maybe one of the best running gear for dogs, a dog leash waist belt for running.
Dual-Handle Operation

 

helps you keep your dog in control when needed with two points of handling, one with a 1-foot range and the other with a 4-foot range giving you full control of your dog.
Reflective Thread: Premium quality materials designed with luminous reflective stitching that run the length of the leash and the 48" belt to ensure you stay safe and visible on your late evening runs.
🎁 IT'S THE PERFECT GIFT FOR DOG LOVERS: This professional dog hiking gear comes in a beautiful color package. Inside the box, you'll find a strong but elastic long leash with a stylish design. Plus you're covered by a 30-DAY  MONEY BACK GUARANTEE. If You Don't LOVE IT Don't Keep It! 🐾




🚚 Estimated delivery time 10 - 21 days

 

}