With the Dog Lick Mat, your dog will be entertained during baths, nail clippings, and groomings. It will certainly attract your dog's attention and make him feel at ease.

Add your pet's favorite treat!
Just add wet food, bananas, peanut butter, or whatever your dog likes! Our specially designed nubs constructed from 100% FDA-grade silicone and will hold it securely in place.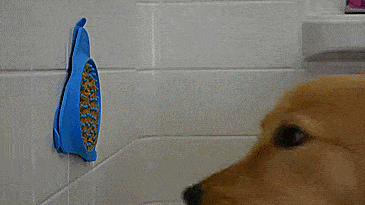 Sticks to any flat surface!
The multiple suction cups on the back stick any smooth surface. Ideal for shower tiles, glass, or even the refrigerator door.
Get down to business!
Whether it's time for a bath, nail trim, or brushing the Lick Mat serves as the perfect to companion to help keep your pup distracted.
Dishwasher and freezer are safe!
When you're done just toss them in the dishwasher. Or stack up a few and keep them in the freezer so they're ready when you need them.
🚚 Estimated delivery time 10 - 21 days

}